In the 14th Five-Year Plan period, Changning will focus on the airport economy, headquarters economy and digital economy, focus on promoting the development of industries such as smart travel, artificial intelligence, digital trade and great health, and build a strong and active national airport economy demonstration area, Shanghai headquarters high ground and Shanghai digital economy transformation benchmark area.
In promoting the construction of Hongqiao Linkong Economic Demonstration Zone, Changning will spare no effort to promote the transformation of the east area of the Hongqiao International Airport, accelerate the construction of global aviation enterprise headquarters base and high-end airport service industry cluster, actively explore the supervision and innovation of key enterprises in the aviation service industry, and strive to make a breakthrough in key links of the industrial chain such as aircraft leasing.
In terms of building a headquarters high ground in Shanghai, Changning will implement a more attractive and open headquarters policy, attract multinational corporations, central enterprises, private enterprises and other headquarters and a number of highly functional platforms, and vigorously boost the number and functional level of headquarters enterprises.
In terms of building a benchmark area for Shanghai's digital economy transformation, under the guidance of the digital transformation strategy, Changning will gather and cultivate a number of innovative subjects and 10 billion yuan (US$1.54 billion) or even 100 billion yuan level trading platforms, accelerate the construction of the national digital service export base and Hongqiao Airport digital economy industrial park, promote the agglomeration of digital service elements and improve the carrying capacity of the global digital trade port.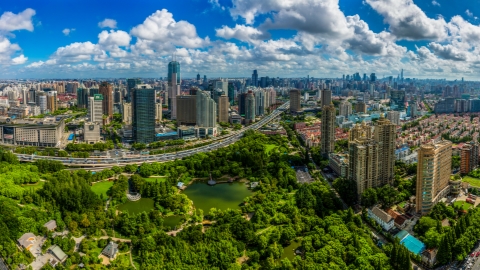 In February 2021, the State Council approved the overall plan for the construction of Hongqiao International Open Hub. Changning District was included in the North Expansion Zone of Hongqiao International Open Hub, and with 19.9 square kilometers of its west part included in the core area.
As the only downtown district within the scope of Hongqiao International Open Hub in Shanghai, Changning District proposes to accelerate the construction of an international community of excellence with global influence and strive to become the central node and major functional site of Hongqiao International Open Hub by 2025.
Editor:Li Xinran Shanghai Daily