More than 90 percent of people aged above 18 years in Changning had been vaccinated against COVID-19 as of 22:30 on June 30, compared with the city's average 77.6 percent, making Changning the best performing district in the city.

A total of 554,499 people in Changning had taken the COVID-19 jab by then and the total number of inoculations had exceeded 1.2 million doses, which topped all the districts in Shanghai.
Meanwhile, 16.836 million people in the city had been vaccinated, with 35.277 million shots dispensed.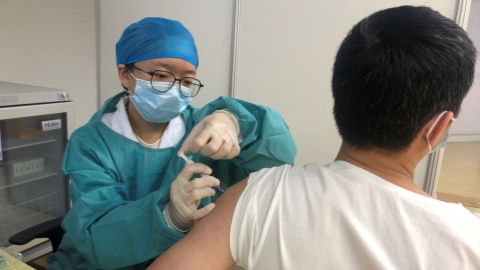 The 77.6 percent is a goal set by the government for building up primary immunity against COVID-19 in the population. The figure is calculated based on the spreading rate of coronavirus and the percentage of people generating antibody after receiving vaccination, according to the Shanghai Center for Disease Control and Prevention.
More than 1 billion doses of COVID-19 vaccines have been administered across China according to the National Health Commission (NHC). China's nationwide vaccination campaign is open to people aged over 18. The country has also approved the emergency use of domestic inactivated vaccines on people aged 3 to 17.
By the end of this year, at least 70 percent of the population in the country is expected to be vaccinated against COVID-19, said Zeng Yixin, deputy head of NHC.
Editor:Li Xinran Shanghai Daily